Cool Streets, Red Hook
2020
Volunteer
Collaborators / RETI Center, Columbia Center for Resilient Cities and Landscape, Red Hook Initiative, Niharika Shekhawat, Savannah Wu, Gentry lock, Deborah Morris, youth and residents of Red Hook
Tactical Urbanism
Red Hook, Brooklyn, NY, USA
︎
map, plan, strategy / Analysis and citing potential of selected site, (01) Wolcott-Lorraine St., between Richards St. and Dwight St., Red Hook, Brooklyn, NY, (02) greens, commercial and institutional, (03) network, (04) potential locations, (05) BYOT network, (06) design strategies


Cools Streets is an initiative by RETI Center in collaboration with local CBOs, designers, and the community to introduce tactical urbanism to allow the community to congregate whilst beating the heat. Targeted in Red Hook, Brooklyn, this edition of Cool Streets intended to tackle the summer heat and an unavoidable COVID-19 protocol whilst bringing the community out on the streets and public forums. Planned in cahoots with the New York City pedestrian streets initiative, these forms of tactical urbanism and architecture were planned on blocked streets and at potential institutional and commercial nodes. The following project is targeted at Wolcott Street between Dwight Street and Richards Street, Red Hook, Brookyn.

The potential nodes of this stretch were cited as the corner in front of the Brooklyn Public Library, the stretch along NYCHA farms, the corner across the public school, and the corner in front of the abandoned senior center along with some parking spots. The "cool" quotient of the project was addressed by the Bring-Your-Own-Tree (BYOT) kit of parts, the tunnel of mist, pop-up pavilions, and potential clusters around existing trees. Additional public interest was generated by introducing a pop-up library and a book drive in collaboration with the Brooklyn Public Library, branding and signage, food trucks, and Cool Streets merchandise. And finally, a 6-feet protocol was constantly enforced. Together these became an army of prototypes and props to keep the streets a little cooler to collect and maintain safe distancing.

The Bring-Your-Own-Tree is a kit of parts to assemble a quick shading device. Primarily an umbrella instead of a tree, the base is replaced with a potted plant borrowed from NYCHA Farms. The plant not only acts as a strong base, but also introduces a cooler micro-climate through transpiration and can be used as vibrant street decor when it is not too hot or in the night. BYOT are light, easy-to-lift, portable trees that when clustered caters to more than two people and at the same time can be all placed at 6-feet intervals to maintain distance. Also, planters can be painted by community kids and adults for fun!

The pop-up library is a collection of pop-colored bookshelves re-engineered using abandoned pallet wood. One side of the battens are removed, two of which are used to secure the sides and the rest of them rest on horizontal members to hold books. These can be painted in fun colors by the neighbourhood kids and adults!

The tunnel of mist is an assembled PVC structure to hold up misting pipes. Plugged into street hydrants (thanks to FDNY), they become excellent cooling agents for the street and are a lot of fun if you walk through them. The mist maintains lower dispersion of water and quicker evaporation for an ambient cooling effect. It also doesn't let you get immidiately wet!


contribution / prototype design, site analyis, site planning, design development, graphical representation, building and testing prototypes


01 / branding and visuals

branding / Cool Streets branding and partners/collaborators, visuals, social media, wayfinding and components (credits - Sandy Pliego and Kavyashri Cherala)




video / "Cool Streets" Responds to NYC's Extreme Heat During Covid-19 (credits - InsideClimate News)
press / As Covid-19 Hinders City Efforts to Protect Residents From the Heat, Community Groups Steps In (credits - InsideClimate News)

video / Red Hook "Cool Streets" (credits- STREETFILMS)

︎


02 / planning and social engagement



plan / site plan of deployable props and prototypes at Lorraine St. - Dwight St. junction, Red Hook, Brooklyn (Bring-Your-Own-Tree areas, tunnels of mist, pop-up library)


images /
week 01 - site huddle and community outreach


images / week 01 - misting system test



︎


03 / Bring-Your-Own-Tree


diagram, isometric / Bring-Your-Own-Tree, (left) kit of parts and assembly, (right) clustering strategy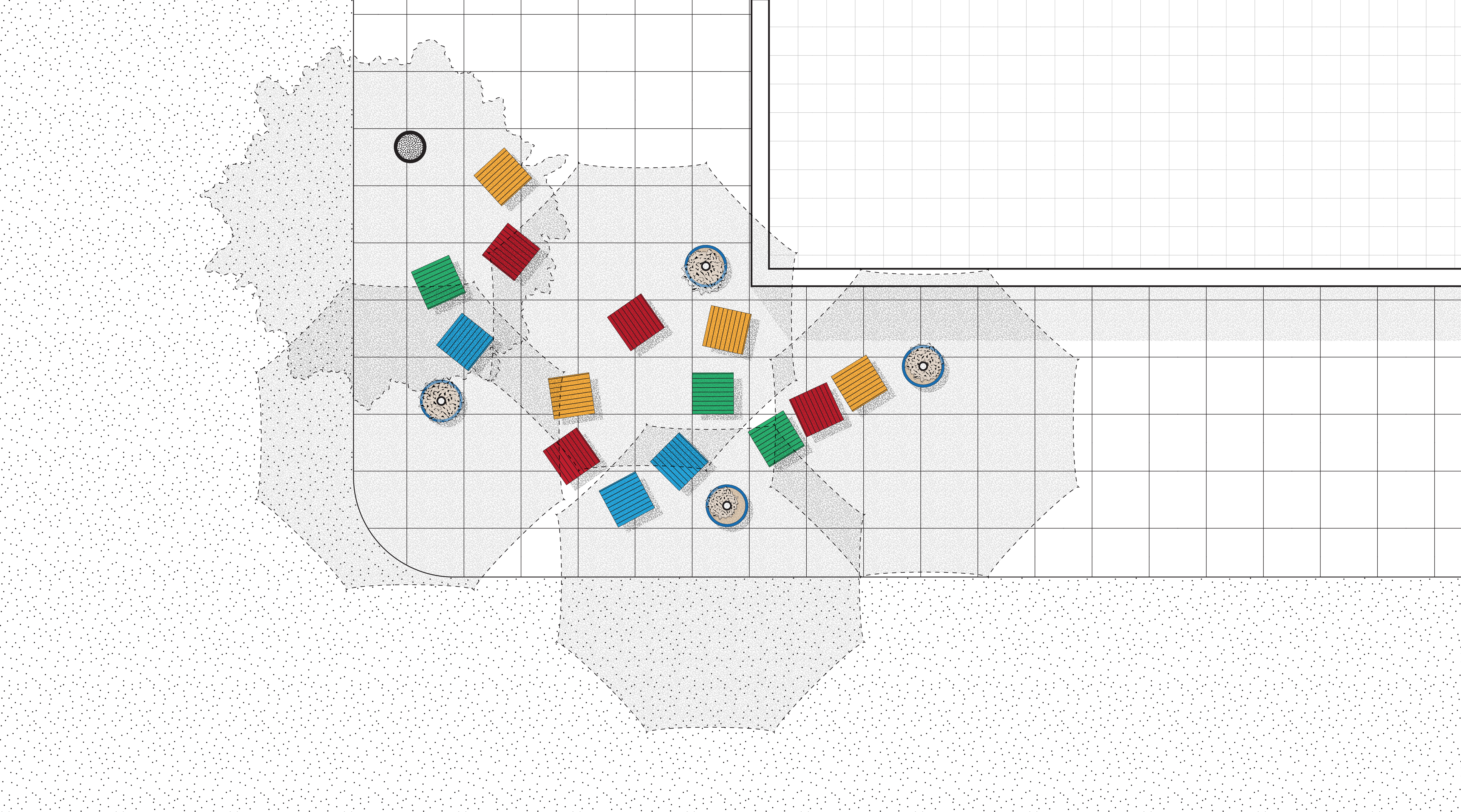 plans / BYOT clusters at Lorraine Street North edge, (01) East parking corner, (02) edge against NYCHA Farms, (03) West corner

︎


04 / pop-up library


isometric / Bookshelf assembly from pallet wood, (left to right) select pallet wood, remove battens from one side, place two battens to secure shelf sides, fill with books




plan / Pop-up library + BYOT clustering at the Brookyn Public Library, 7 Wolcott St., Brooklyn


images / Bookshelf assembled and painted using palett wood

︎


05 / tunnel of mist





axonometric, diagram / tunnel of mist, (left to right) kit of parts and assembly, complete structure, tying and plugging in misting system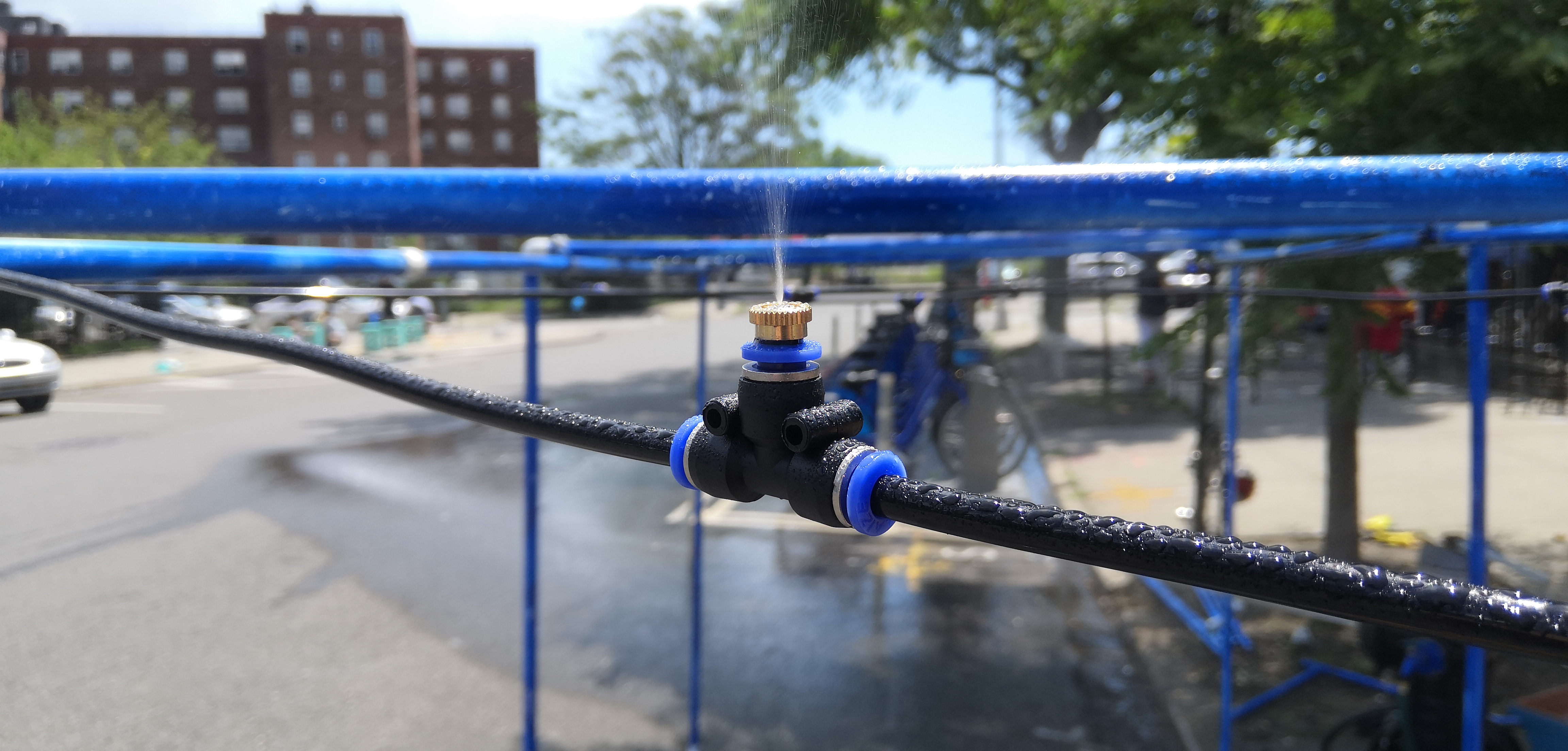 images / week 02 - structural assembly of the tunnel of mist, week 03 - installation and testing of misting system



︎


06 / pavilion


images / concrete block pavilion




images / public opening in front of Brooklyn Public Library at the corner of Wolcott St. and Dwight St., Brooklyn (image credits - Niharika Shekhawat)





︎