Atmosphere




Spring 2015


School of Planning and Architecture, New Delhi


Critic / Dr. Amit Hajela (Neev Architects Urban Designers), Rahoul Singh (RLDA), Dr. Prof. Jaya Kumar


Vasant Kunj, New Delhi, India
︎



perspective, diagram / view from the southern corner, geometric play across levels


The design begins at the redevelopment of architectural pedagogy and is translated as a 'colloidal program'. The undergraduate wing is a rendition of the layers of the atmosphere - individual strata, forming a homogeneous cloud. Starting from within the crust, the volume rises as a square doughnut; inspired by the traditional Indian courtyard morphology to maximize light, views, and ventilation. The levels are alternating layers of essential (studios and lecture rooms) and resource spaces (libraries, labs, workshops, research rooms, and public studios). Their vertical alternation weaves the 'colloidal program' that makes the entire volume unite as one homogeneous unit of heterogeneous minds.

The studio is redefined as a workroom for group and solo work with lecture niches for theoretic learning and group discussion. The open plan enables cross-pollination across all sections, years, and departments. The 'colloidal programming' creates equitable access to workspaces, thinking spaces, resources, faculty, exhibition, and recreation, emulating a scintillating Tyndall effect. The courtyard further activates as a locus for college festivals, recreation, exhibition, or just ephemeral procrastination. The geographic highlight of the site is the gorge. Sheltered by one-fourth of the doughnut, the courtyard, and peripheral yards fade into this gorge, making it active for work and play.

Collectively, the building imitates the minds of the aspiring designer – a complete mash-up of learning, resources, recreation, application, and cognition. The colloid elevates the pedagogy from a studio to a think tank for students and faculty alike.



diagram / colloidal programming




floor plan / level one




sections / (top to bottom) E-W courtyard cut, N-S studio cut, N-S courtyard cut




elevation / south western elevation




plan, diagram / spatial realisation of the studio pedagogy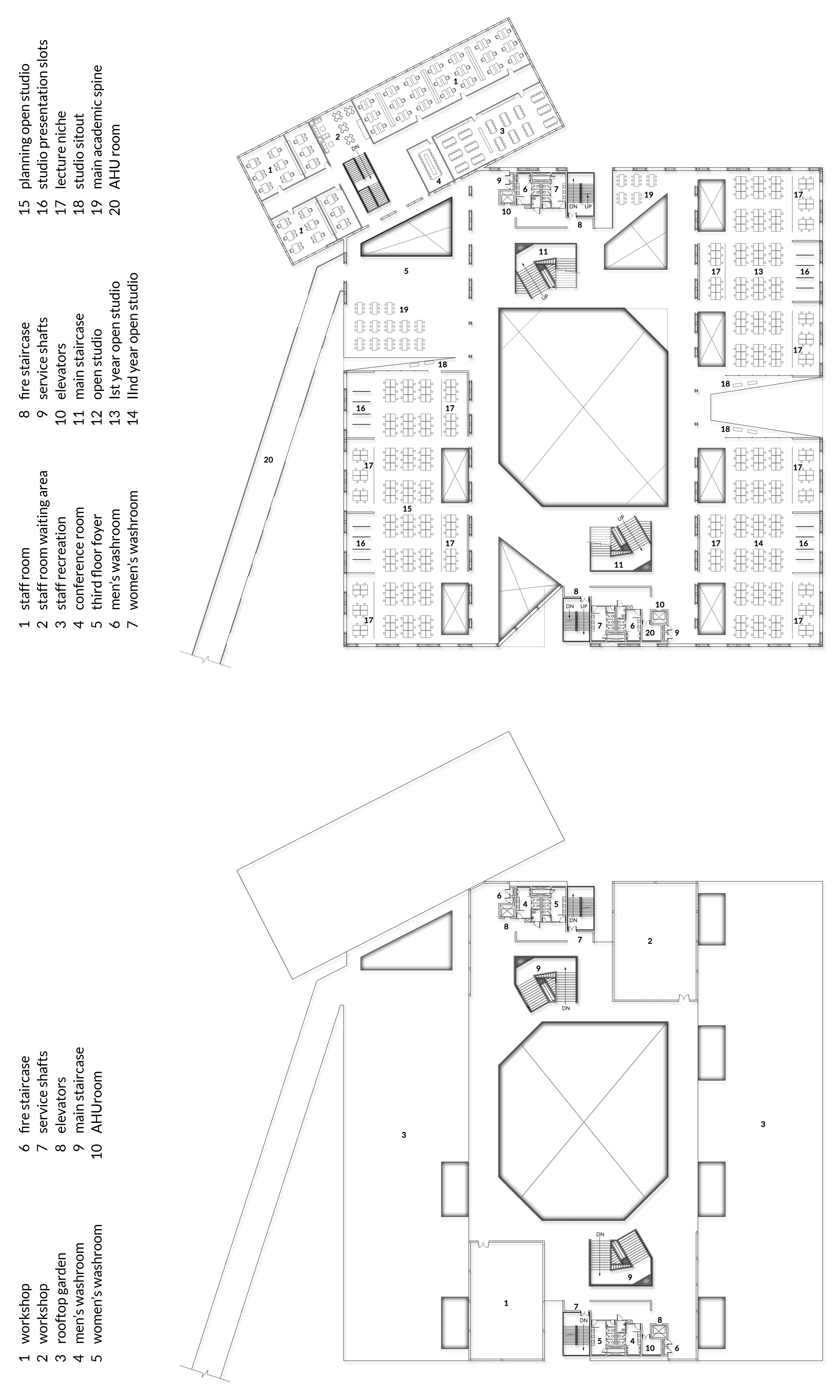 plan / (above) level two, (below) level three

plan / (above) level four, (level) five)

︎